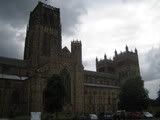 We decided to visit
Durham Cathedral
as our family trip out yesterday.
The first time I went there was when I was three. The thing I remember is the cloisters probably because they are so distinctive:
(My mum remembers that trip because apparently I was the one who asked to visit Durham and then after walking a few yards down the street, I turned round and said, "Right, I've seen Durham, let's go home now.")
I didn't get any photos inside the Cathedral as you are not allowed to use cameras inside. One things which I find particularly fascinating is looking for signs of how the Cathedral looked in the past and in particular before the Reformation. They have some small parts painted to give and idea what it used to look like and if you look carefully you start to notice lots of places where statues would have been but were obviously removed.
We decided against climbing the 325 steps to the top of the tower as we didn't fancy carrying Baby Girl up but it is definitely worth it for the views if you are able.
While we were inside we popped into the Cathedral bookshop where we bought some New Testament board books for Baby Girl. As we don't like to have ones with pictures of Jesus, she did have rather an inbalance of Old Testament to New Testament but these books were by
Christian Focus
and do not have pictures of Jesus.
After all that walking round Baby Girl needed a rest:
I think we all enjoyed our day together.