Well our trip last month was successful and we now have a rear facing car seat which will last at least until Little Girl is four and hopefully longer.
In Sweden children are kept rear facing at least until age four. Here in the UK (and most countries except the Scandinavian ones) children are usually turned to face forward when they are around one. We actually moved Little Girl on when she was nine months and only just at the legal minimum weight for forward facing (9kg) because she was too tall for her first car seat. Although we would have kept her facing that way longer if we'd been able to, we did not know how significant a difference it makes and we also didn't know that it was possible to get rear facing car seats in the next stage (Group 1).
I just happened upon the information when someone linked to
UK Rear facing campaign
on an online parenting discussion group. The statistical difference is quite significant. The following graph shows the deaths and injuries per 100 000 children in Sweden vs. Great Britain.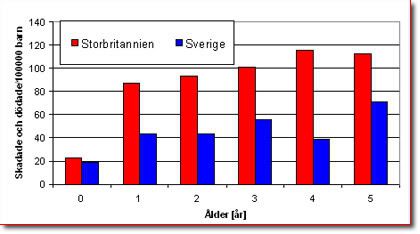 As you can see, for under ones (who are rear facing in both countries) the figures are fairly similar. This illustrates that the difference for older children must be because of the car seats and not a difference in cars used. You can see quite clearly that children in Great Britain aged 1-5 are more than twice as likely to be killed or injured in a car accident than their Swedish (rear-facing) counterparts.
Unlike an adult (who's head makes up just 6% of their body weight), a toddler's head can be up to 25% of their body weight. This combined with less developed bones puts the neck at much greater risk when forward facing. In a frontal impact a rear facing car seat will support the head and torso together. A forward facing seat holds the torso (by the straps) and the head is unsupported potentially leading to serious neck injuries
I found this video to be particularly helpful in illustrating the difference because being in the same test, the rear and forward facing seats are subject to the same conditions and you can clearly see the difference in effect on the crash test dummies.
For more crash test videos, see
Car Safety for Kids
.
BBC News Video Clip about UK Rear Facing Campaign
One concern that people have about older children in rear facing seats is that they won't have enough leg room. This is actually not the problem you would expect and I was surprised at how much leg room there actually is. We have also found it is easier for Little Girl to get into the seat herself as she can stand right in front of it and then sit down whereas for the forward facing seat she had to climb into it over the side and then turn around in the seat (which would always take a very long time so we tended to put her in ourselves rather than waiting). Another issue with legs is that people sometimes think that having the legs like that is dangerous but in fact
bent or crossed legs are not dangerous
.
As you can see in this picture, Little Girl had plenty of space on the journey home:
In fact, she was so comfy that she fell asleep:
Obtaining a rear facing seat for an older child
Although it is possible to get rear facing Group 1 seats on import, there is one - the
Recaro Polaric
- which is specifically available on the UK market. We bought ours from
Babyworld
because they were the easiest for us to get to but we were very impressed with the service and would definitely recommend them to anyone who is UK based. The person who fitted it for us talked us right through how to fit it and the reasons for everything and was clearly very knowledgeable about car seats in general and about why rear facing is best. He said the reason they only stocked the Recaro seat is because if they got others on import then they would not know if there was a safety recall so we were glad we had gone for that particular seat in the end.
Useful Links
Keeping Kids Safe in Cars
(North American car seat safety site)
Rear Facing Rocks
(Illustration of the difference in head size at different ages, statistics on types of crashes, lots of links)
Joel's Journey
(Joel was in a car crash in September last year. He suffered internal decapitation and now is Grandpa is trying to raise awareness of the risks associated with putting your child forward facing compared with rear facing.)
Pictures of kids in rear facing car seats.