I have a leather elephant moneybox which Little Girl loves to play with so today I made a new game with it:
First I found ten 2p coins (I picked these because they're bigger than pennies so easier to handle but they are not worth a lot). Next I demonstrated posting them into the money box one by one and then emptying it out. It's amazing how much entertainment value there is in such simple things - Little Girl loved it!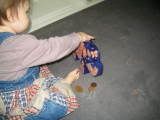 If you have made any simple games for small children, please let me know in the comments - it's good to share ideas.