... are the two reasons why I haven't posted in a while.
I've no idea why but regardless of when I go to bed I am waking up between five and six o'clock every morning (I normally get up just before seven). Little Girl has also been waking but this has not been disturbing me as I've already been awake. It is really strange as the mornings are getting darker at the moment so I would have thought we would be
less
likely to wake up early rather than more likely.
I've also been very busy sorting out these: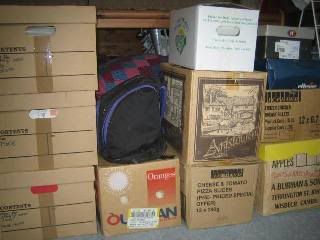 It was actually more than that as I later found a couple more boxes I'd forgotten because they were being used as a bedside table for Hubby.
I had all of my school work, Christmas and birthday cards and letters from age eleven onwards plus loads of other random things I had decided to keep over the years. I hauled everything out of Little Girl's room (which is where it is stored) and have managed to cut it down by about half:

In order to speed the sorting process and get the boxes put away as quickly as possible I have just been sorting everything into "keep" or "not keep". I'm now sorting through a mountain of stuff sorting it into either rubbish, recycling, scrap paper, other useful stuff, and stuff to sell or give away.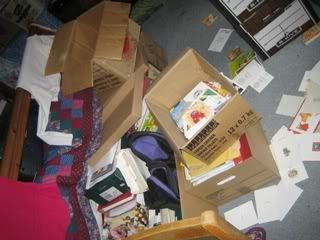 (This is only a sample of the "not keep" stuff.)

This process is then doubled because Hubby had a pretty similar amount of stuff to sort through (we both come from
families
of
hoarders
) except that his letters and cards go back to preschool and his family are rather prolific letter writers so he has mountains of them.
Needless to say, we are planning to teach Little Girl how to be discerning about what she keeps so that she doesn't end up having to do the same in twenty of thirty years time.