From yesterday until Christmas Eve, Hubby is working late shifts Monday to Saturday so we're having to get used to a new routine. Yesterday was rather disorganised but today has been better. I'm trying out a
meat loaf recipe
I found on
New Life
. I never made meatloaf before (I think maybe it's an American thing) so I'm looking forward to seeing how it will turn out. I did make a couple of modifications as I used lamb mince instead of beef mince and I'm putting salsa on the top instead of ketchup. The loaf is now sitting in the oven ready to cook and the salsa is made and ready to be added.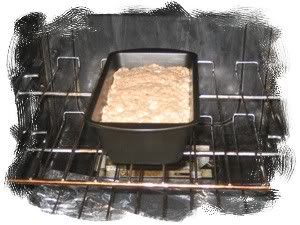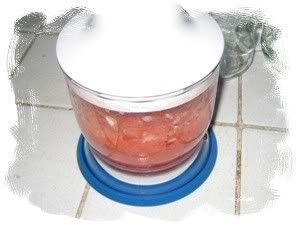 Last year Little Girl was too young to particularly notice that Daddy was around at different times but yesterday after bath time she was calling, "Daddy" and trying to go downstairs to look for him. I'm sure we'll all get used to it soon though.
A while back I read about the "box of beans" toy at
Lentils and Rice
and had been trying to think of something suitable for Little Girl as I knew she would love it but beans would be too small at her age. Today I finally thought of pasta so she spent the half hour before lunch time playing with a cup of (dry) pasta and three plastic tubs: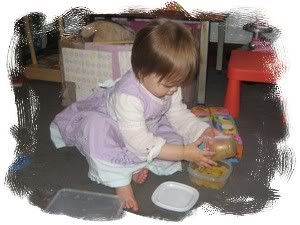 One last thing I wanted to share before Autumn is over is our Autumn table decoration: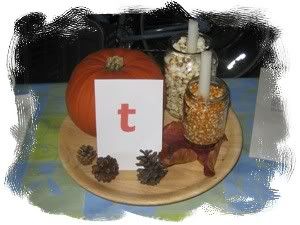 It's not really an English thing to do but I've been reading about Autumn decorations on lots of American blogs and thought it sounded like a nice idea to mark the seasons so this is my first time. The stuff is actually on a lazy
susan
which is nice as we can turn it to face different directions and it makes it easy to remove and put back when we need to. Hopefully on Monday morning we will go out foraging for holly so that I can make a Winter one.