I made this to stick inside our TV cabinet as a reminder to guard what we watch: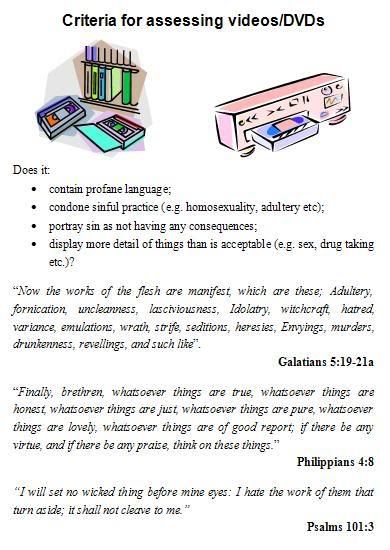 I've started making one to go inside my wardrobe as a reminder for when I am choosing my clothes. So far I have the following verses:
"The woman shall not wear that which pertaineth unto a man, neither shall a man put on a woman's garment: for all that do so are abomination unto the

Lord

thy God."

"In like manner also, that women adorn themselves in modest apparel, with shamefacedness and sobriety; not with broided hair, or gold, or pearls, or costly array; But (which becometh women professing godliness) with good works."


"Likewise, ye wives, be in subjection to your own husbands; that, if any obey not the word, they also may without the word be won by the conversation of the wives; While they behold your chaste conversation coupled with fear. Whose adorning let it not be that outward adorning of plaiting the hair, and of wearing of gold, or of putting on of apparel."

If anyone has suggestions of other appropriate verses, please do comment.