You may remember my mentioning
here
that I needed to make a wedding present for my cousin. Well I managed to get it done and we went to the wedding at the end of our summer holiday (vacation). As I said, I usually write some appropriate Bible verse(s) using calligraphy and put it in a frame.
Up till now all the wedding I have been to have been weddings of Christians (except for when I was very little - I never went to any weddings between the age of about 6 and 24) but my cousin and her fiance (now husband) are not Christians. I don't really know my cousin well enought to know her views on Christianity but as they were getting married in their local Anglican Church, I figured they couldn't really have any objection to my giving them an approriate framed piece of Scripture. (I do have friends who are atheist who I would not do this for as it would be rather antagonistic.)
Usually I pick a verse (or verses) which speak(s) specifically about marriage but for my cousin I decided to use 1 Corinthians 13 v 4-8a. I also decided to use the NIV version of this even though I usually use the AV simply because for this particular passage it is easier to follow.
So here is the finished product: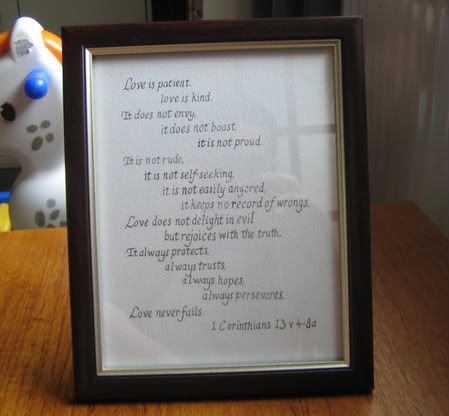 Re-reading it now reminds me of what a high standard God sets and that we must strive to come as close to it as we can even though we all fail each and every day. Although I am sure some people may think it is a bit of soppy sentimentality, to me it is an awesome challenge and a reminder of both God's greatness and my sinfulness.